2398 gr. CDrom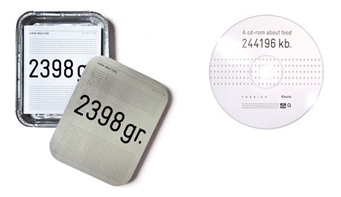 2398 gr. is a book and CDrom that explores our relationships with food, the techniques of contemporary art, food as fetish, ritual, dependence, festivity, emotion, pleasure, obsession, chemistry, relation or fear. Or food as landscape design, a metaphor, a sign, dance and architecture. Fabrica has invited acclaimed and emerging artists to contribute a personal piece to the project. Contributors include Alan Fletcher, Anna Fox, Marti Guide, Reed Kram, Javier Mariscal, Stephan Sagmeister, Wolfgang Tillmans, James Victoire, Andrej Zdravic and many more. It was created at Fabrica and published by Electa in 2003.
In addition to acting as part of the editorial team for the CDrom I developed some of the pieces including the Carotene, Latte and Coffee Break sound toys.
You can download 2 of the sound toys here, both developed with Ramon Schneider and Francesco Meneghini.
Carotene

download (approx. 10mb) mac, windows
Latte
Back to the home page
–
Trackback